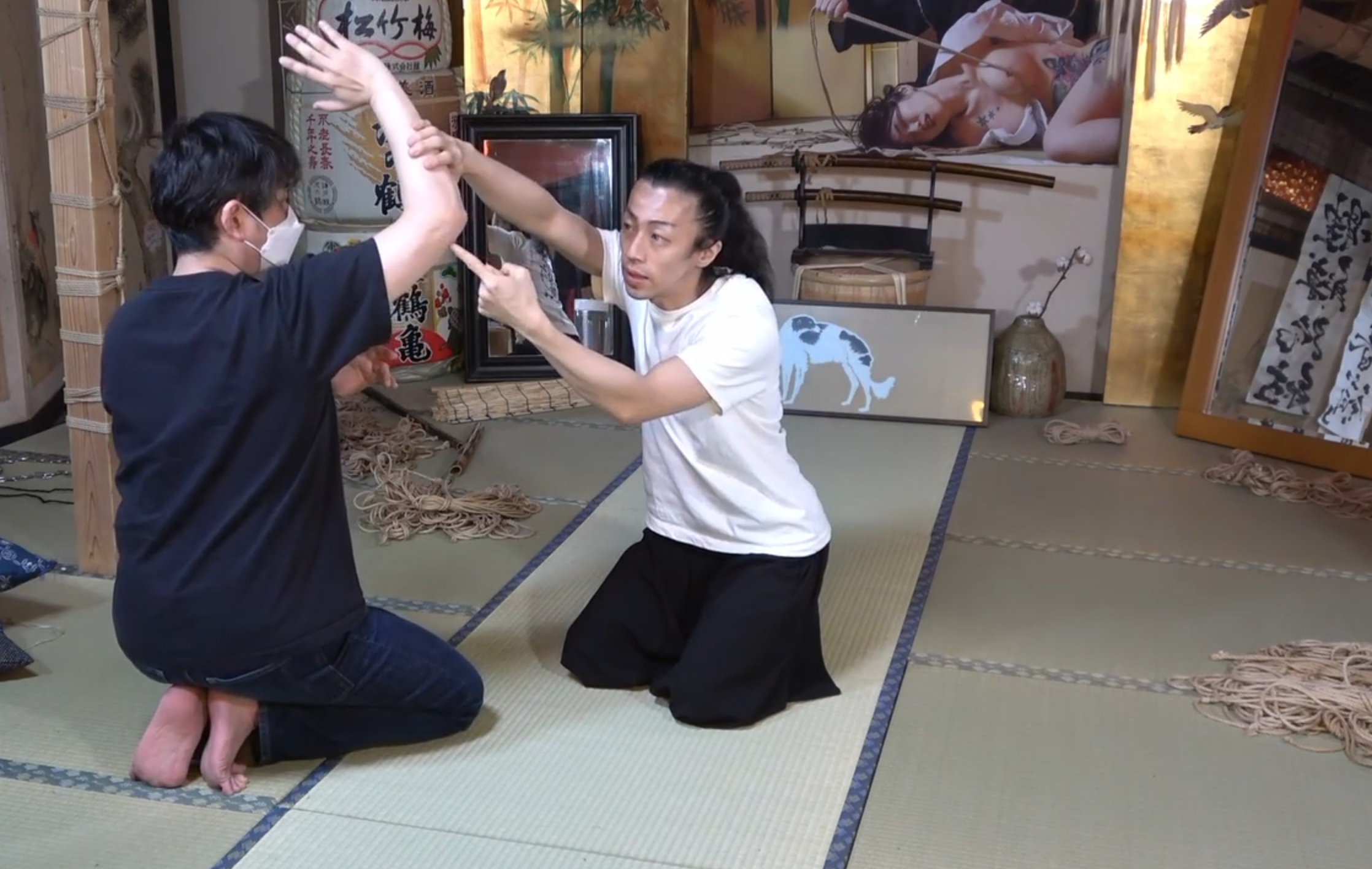 The Secrets
of the
Samurai Tying Arts

This workshop focuses on honnawa (
本縄

) techniques, judicial bondages, and ties designed for court appearances.
Specifically, we are treated to the hexagon-shaped kamenawa (
亀縄

, turtle tie), koten gote (

古典後手

, classic gote) and koden shibari (

古傳

縛り

).







What's Inside


In this workshop, grandmaster Yagami Ren is again working with two ukemi (
受け身
): Shirokuma (male, aikido) and Kano Hana (female, judo).
We are again treated to plenty of different ties (shibarikata,

縛り方

)

and techniques (waza,

技

).


Hojojutsu / hobakujutsu (
捕縄術

/

捕縛術

) have been one of the 18 warrior skills (bugei juhappan,

武芸十八般

) of the samurai. Today, in contemporary shibari we are using elements from kobudo (

古武道

, old (traditional) budo) to combine with modern kinbaku skills customized to each ukete (

受け手

, bondage receiver).



'True' hojojutsu was using single lines, while today we are using double lines.
In 'true' hobakujutsu your life was at stake, while today we put emphasis on communication, mutual consent, and good feeling with our partners.
'True' hojojutsu could involve torture where captives were left in stress positions for extended periods of time. Today, it is our responsibility to avoid injury.

Today's Terminology Roundup
kamenawa (
亀縄

, turtle tie) resembling the hexagon pattern on a tortoise shell
koten gote (
古典後手

, classic gote). A gote that is 'chain-stitched' and can be removed quickly by pulling at the ends. This will be done if the accused is judged innocent (

無罪

, muzai) at trial. Koten gote is not to be confused with other imploding or collapsible ties like watashinawa (

渡し縄

, hand-over bondage)

, as they all have different purposes.
Other terminology for 'magic' rope include hikit
okin

awa (

引き解き縄

), shikominawa, oshidasunawa (

押し出す縄

), and many more.
koden shibari (
古傳縛り
) aka koden takatekote shibari (
古傳高手小手縛り
). A gote (
後手
) w/ hojo wraps (
koden, 古傳
)
around the upper arms (takate,
高手
) only. (No rope going around the chest.)
jumonji (
十文字

, figure-ten tie)
koshinawa (
腰縄

, hip harness)
yuzai (
有罪

, guilty)
muzai (
無罪

, not guilty)

kabuto musubi (
兜

, helmet knot). When arresting someone and the captive pulls, the cuffs will tighten. But if he follows, the cuffs will loosen and can be removed, facilitating escape.
houmen shibari
(
放免
, release, acquittal)
shikakenawa (
仕掛け縄
, predicament rope)
takayama shibari (
高山縛り

, high mountain shibari)
Aikido (合気道)
Aikijujutsu
(

合気柔術)



If you wish to look deeper into the samurai tying arts, take a look at the bible of 'Torinawajutsu' by Fujita Seiko (
藤田西湖

) here.

Available in days

days after you enroll

First Section
Chef's Recommendations
Perambulate through the vast treasure trove of high-quality workshops and structured Osada-ryu school system courses.
Check your inbox to confirm your subscription