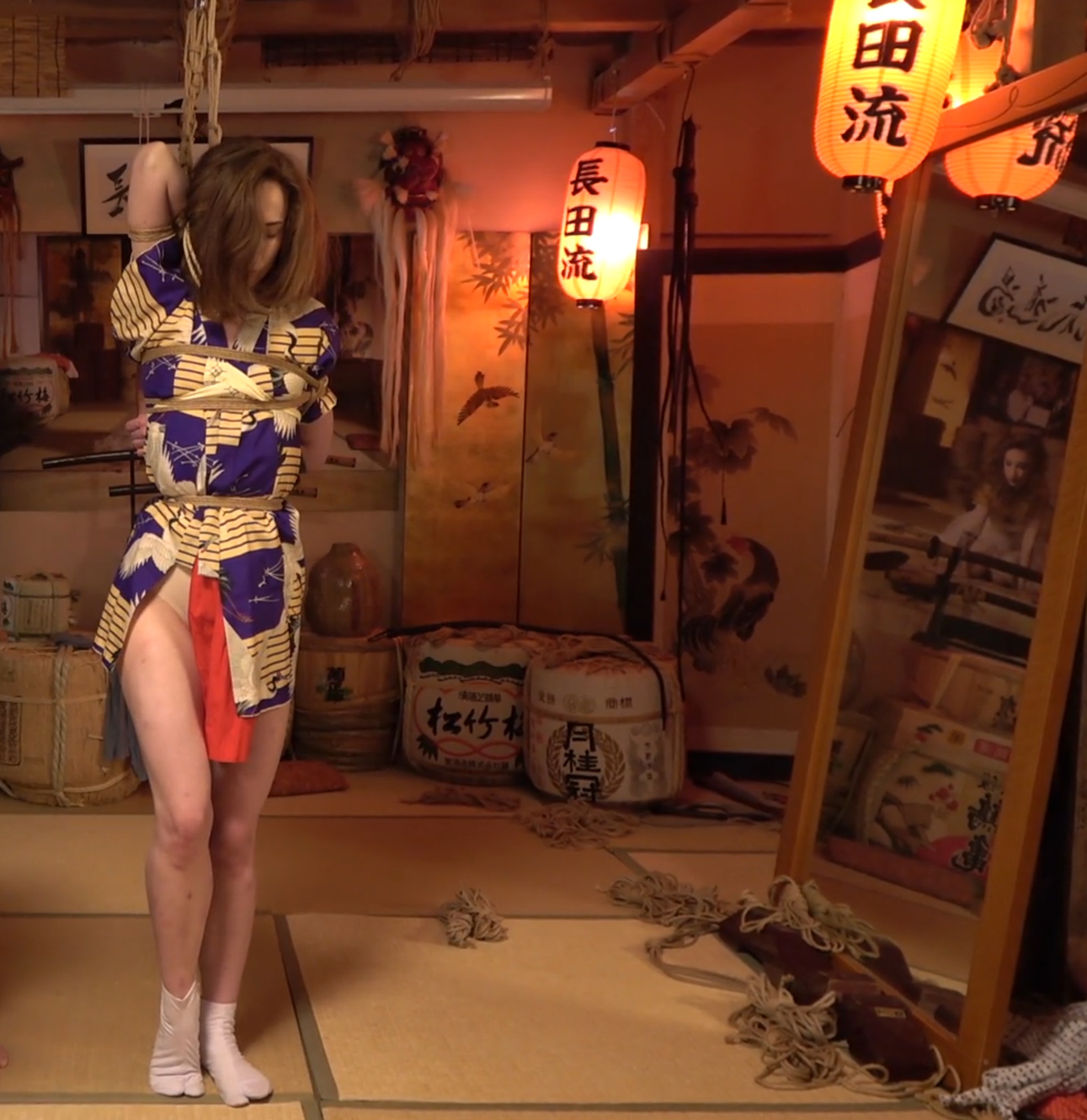 Ample attractions
This course teaches not only one but two rifle-style suspensions (teppozuri,
鉄砲吊り

) featuring two different models.
It also teaches a number of simple but highly efficient ties that, once mastered will greatly increase your kinbaku skills.
The one-rope buffalo wings (toba shibari,
鳥羽縛り

) is a magnificient tie to capture your rope partner and make them feel helpless.
The one-rope reverse choker (gyaku kubikazenawa,
逆首風縄

) is meant to choke and at the same time expose the armpits (wakizarashi,

脇晒し

) rendering your rope partner completely vulnerable.
The praying mantis tie (kamakirinawa,
蟷螂縄

) is also calle

d tourou shibari. The takate (upper arm,

高手

) and kote (forearm,

小手

) are tied in such a way that the hands could catch insects zipping by. If only the arms were free.



About the "Inner" Meanings of Ties
In kinbaku/shibari (
緊縛

/

縛り

) we have shibarikata (bondage patterns,

縛り方

) laden with history and shrouded in mystery.
Certain ties have been developed for certain reasons.
Knowing those reasons will help understand their meanings.
It is the mission of Osada-ryu (
長田流

) to transmit the "inner" meanings of the Japanese ties so our perspicacious students can enjoy their rope sessions beyond the mere application of knots.
Feel encouraged to join the regular Osada-ryu and Yu
kimura-ryu online workshops and join the discussions there.
Should geographical circumstance or astrological misalignment conspire against physically attending lectures at the Osada-ryu HQ in Tokyo or any of the accredited Osada-ryu dojo around the world you are always welcome to book private online tuition here.

Curriculum
3 hours and 40+ minutes
Available in days

days after you enroll

Teppo Suspension (teppozuri, 鉄砲吊り, rifle tie)
Available in days

days after you enroll

Miscellanenous
Chef's Recommendations
Gallivant at your leisure and discover more educational courses and workshops.