News +++ News +++ News
Check out the special Hojojutsu (捕縄術) workshop recordings by grandmaster Yagami Ren (鵺神蓮).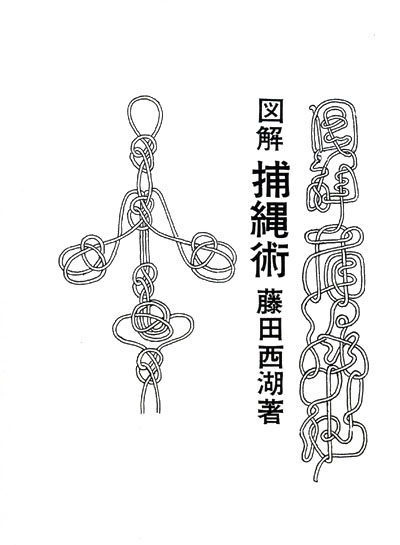 Preface
(Translation)
A long time ago, when Japan was in political turmoil and not yet united under one government, members of the warrior class considered it as their noble duty to bring honor to their name by taking prisoners on the battlefield. Together with the other martial arts the art of capturing (Hobakujutsu,
捕縛術

) und immobilizing (Hojojutsu,

捕縄術

) with rope was intensively trained.
      After the country became peaceful, the tying arts were exclusively used as techniques for arrest, and those tasks were delegated to low-ranked samurai. Under the Tokugawa shogunate of the Edo period hobakujutsu / hojojutsu was only practiced by police holding the rank of torikata-doshin (
捕方同心

) and below, not by samurai of the rank of yoriki (

与力

) or above.
      From the Meiji period (1868 to 1912), people who had not been specifically designated for such tasks were prohibited from using nawajutsu/jojutsu (
縄術

), i.e. use rope to carry out arrests, even of alleged criminals. Accordingly the number of those who practiced the tying arts declined. Some of the bujutsuka (

武術家

), those who were trained in martial arts, and those who were in charge of arresting and transporting prisoners now only learned the basics, such as techniques required for initial arrests and temporary bondage (hoshu hayanawa,

捕手早縄

) and rope techniques useful for prisoner transport (gosoyo nawa,

護送用縄

).

Purchase HERE.



By The Author
(Translation)
    In the past hoshu hojojutsu (捕手捕縄術) was part of the 18 general martial arts (bugei juhappan, 武芸十八般) and was practiced as such.
      As someone who has studied these arts it is my hope to preserve at least a small part of these as well as the customs, rituals, and traditions; even though those techniques these days are only the subject of theoretical study and of limited practical use. To this end I have put together the knowledge that I have accumulated over the past decades as a document for future generations.
 Autumn, 1964
 Fujita Seiko (
藤田西湖
)
Purchase HERE.
Introduction
 (By Fujita Seiko, translation)
This book is mainly dealing with tying techniques as they pertain to capture as part of the warrior arts (hobakuyo nawaho,
捕縛用縄法

). It does not deal with rope techniques designed to carry out sentences in criminal law (keibatsuyo shokei nawa,

刑罰用処刑縄

).
As for rope applications for beheadings (
shokeiyo kubikirinawa,

処刑用首斬縄

) and for public display on a pillory (sarashi nawa,

晒縄

), these are dealt with within the context of other tying methods.    
      Special applications such as ketsujo (
傑縄

, special ties), hiaburi nawa (

火焙縄

, ties for burning at the stake), gomonyo kakushu semenawa (

拷問用各種責縄

, ties designed for torture),

刑罰用処刑

縄

and shikenyo kakushu shiyonawa (

試剱用各種仕様縄

, ties for testing the blade of a sword) are mentioned only briefly.
      Bondages that integrate the long and short sword (daisho katana shibari,
大小刀縛

), nor other arresting methods utilizing the wooden pole (bobaku,

棒縛

), the ladder (hashigonawa,

梯子縛

) or tying to a post (hashiranawa,

柱縛

) are also not covered by this book.
      The plan is to publish such tying methods (nawaho,
縄法

) in a future book, that will cover the various rope torture methods (gomonyo kakushu semenawa,

拷問用各種責縄

), rope application in criminal justice (keibatsuyo shokei nawa,

刑罰用処刑縄

), bondages for testing sword cutting (shikenyo shiyojo,

試剱用仕様縄

), bondages that utilize various implements, as well as bondages that enforce certain body positions or kneeling postures (henkei hensha no shibari kata,

変形変謝の縛り方

). 



Purchase HERE.

What is Torinawajutsu (
捕縄術

)?

(Note: the kanji for 'hojo' and 'torinawa' are identical.)






Torinawajutsu / Hojojutsu (
捕縄術

) is the art of capturing people and preventing their escape. This art is also known as torinawajutsu (

取縄術

), hobakujutsu (

捕縛術

), sokei no jutsu (

繰繋之術

), togijutsu (

伽術

) and senjutsu (

仙術

). In China this tying art was named menjo tosaku (

綿縄套索

) or just saku (

索

).
      Initially this art was meant to capture enemies on the battlefield, but also to arrest and immobilize violent people. Over time the tying techniques were introduced to the civil life, where they were employed to arrest criminals and prevent the escape of prisoners.
      In the beginning the only goal was to take away the freedom of the opposing party or to immobilize violent or rampaging people. Later the techniques were more and more standardized and codified (nawakake hoho,
縄掛方法

), so that by looking at the type of bondage it was possible to recognize the rank of the one in rope.
      Furthermore, bondages were then developed such as taishonawa (
大将縄

) for generals and high officers, shisotsunawa (

士卒縄

) for foot soldiers, and geronawa (

下郎縄

) for horse minders and servants.
      Later, based on the above, tying methods were developed that not only were based on military rank but also on class affiliation: such as warrior class (samurai), normal citizen, Buddhist priest or monk, Shinto priests, yamabushi (mountain ascets), pilgrims, women, children, blind people, and hinin (Japanese pariah).
      At the same time bondages evolved that would show the type and severity of the crime.
      A bondage that didn't match the above rules was not only a great shame for the one in rope, but would also bring dishonor to the person responsible for the tie.

Purchase HERE.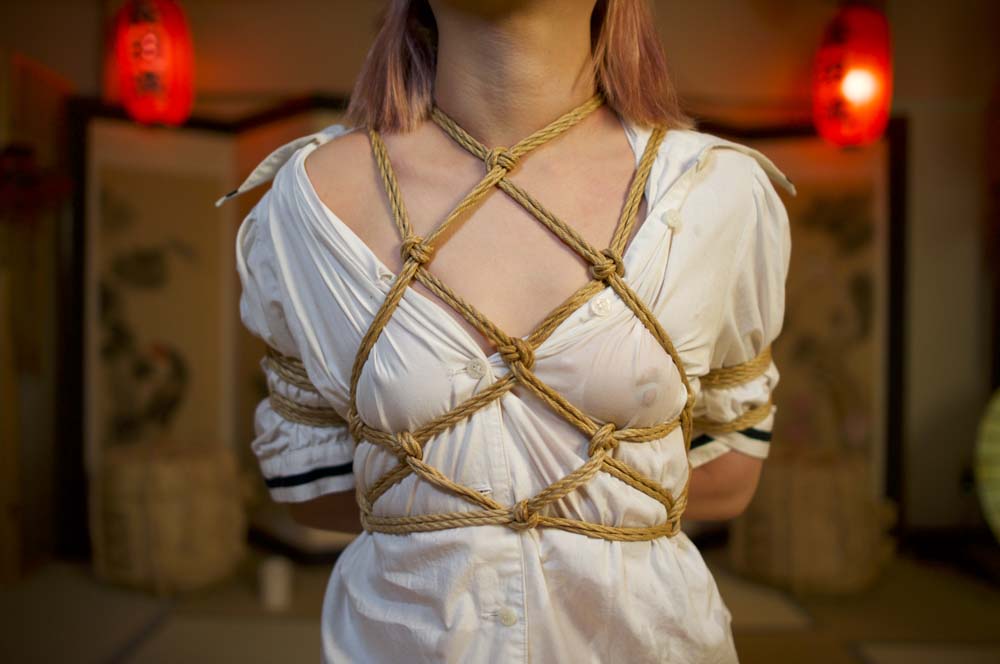 A Brief Look Into Topics


During the Edo period the following bondages were the general standard:
for samurai – nijubishinawa (
二重菱縄

);
for ordinary citizens (members of the lower classes) – jumonji (
十文字

), waribishi (

割菱

), chigaibishi (

違菱

), kaminawa (

上縄

);
for Buddhist priests and monks – kaeshinawa (
返し縄

),

taka n

o hane (

鷹羽

);
for Shinto priests – shimenawa (
注連縄

),

toriikakeru

(

鳥居懸

);
for mountain ascets (yamabushi) – kyujunnawa (
笈循縄

);
for women – chichikakenawa (
乳掛縄

);
for children – chigonawa (
稚児縄

);
for traveling actors – zatonawa (
座頭縄

);
for face-to-face line-ups – hafujonawa

(羽附縄

);
for mountain guides/carriers – ashigatamenawa (
足固縄

);
for people trained in escapes – tomenawa (
留縄

);
for the transfer of criminals between jurisdictions – tasukenawa (
介縄

), okurinawa (

贈縄

), watashinawa (

渡し縄

);
for public shaming/display – sarashinawa (
晒縄

);
for beheadings – kubikirinawa (
首切縄

), kirinawa (

切縄

),

kirinawa/zanjo

(

斬縄

), hasaminawa (

剪縄

), rakka (

落花

), sutenawa (

捨縄

) and kirinawa (

伐縄

);
for arsonists – hitsukenawa (
火付縄

);
for pariah (hinin) – hininnawa (
非人縄

).
However, depending on the respective ryu-ha (
流派

) the naming and the bondage types were different.


Purchase HERE.

Book Specs
Hardcover
Pages: 348
Size: 19 x 26.5 cm (7.5 x 10.5 inches)
Weight: 1.3 kg
Price: $249 + s+h
Purchase HERE.

Chef's Recommendtions
Perambulate through the vast treasure trove of high-quality workshops and structured Osada-ryu school system courses.
Check your inbox to confirm your subscription